Welcome to my Adirondacks.

Thank you for taking the time to visit our site here on the Internet.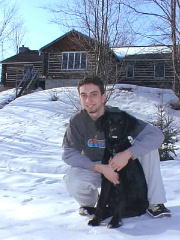 Hi, I'm Keegan Roberts. I'm glad that you took the time to visit us here on the web. I hope you enjoy your visit and will come in person to see just what it is that makes me love hiking, canoeing and camping here in the Adirondack Mountains.
I was born and grew up here in this most spectacular place, and have had the good fortune to be able to see and experience things that others merely dream of.
I have guided for the past few years for our local Boy Scout Council summer camp, Camp Russel and now guide with my father here at Fort Noble. I am enrolled in the School of Architecture at the State University of New York in Buffalo and am in my third year.
  Come trek with us and I will show you what makes the Adirondacks special to me.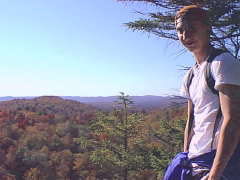 The High Peaks region is a fantastic area with giant mountains and clear running streams. My favorite is the Colden Mtn. and Avalanche Pass area with the great rock faces of Mt Colden and the waterfalls that start only after a rain, cascade over the cliffs and fall hundreds of feet into Avalanche Lake. Come and we'll cross the Hitch-up-Matildas on the side of Avalanche Lake. You too can experience the deafening roar of a summer storm followed by the eerie quiet after it passes, or a quiet evening with the Mayflies hatching and the trout rising in a feeding frenzy. Camp in the deep woods where there are deer and bears, mink and otter and you are their guest as am I. Come trek with me, we'll have a good time.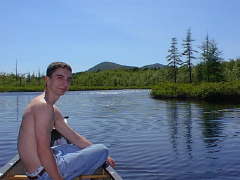 I hope that you will come and experience the eerie, haunting wail of loons or the roaring sounds of a waterfall after a summer storm has crashed through.
I look forward to guiding you through the wild lands of the Adirondacks so that you too can truly experience the Adirondacks in all her majestic splendor.