| | |
| --- | --- |
| | Grumman Canoes |
We at Fort Noble are proud to be able to offer you the same Great canoes that we use in our Treks.



These canoes are manufactured in Marathon, New York at Marathon Boat Works. They are a Super, well proven canoe. They ARE the Grumman Canoes, complete with the "G" in the kick-plates.



After we sorted out all of the hoopla about the new plastics and new materials and new designs and the fancy marketing campaigns that are designed to put their products in a better light compared to Aluminum Canoes, we realized that they were just attacking the product that they felt was superior.

These were great canoes when I was a kid and they still are. We use these boats hard and at the end of the day, I know that I can count on them. They have proven to be reliable, easy to paddle, easy on the Carries, great handling for all skill levels, stable and safe. I hope that you will take the time to look through the following information about Grumman Canoes, then give me a call. We'll get you set up with your canoe, or if you would like, book a trek so you can get some real field experience with these great boats instead of a ten minute paddle around a puddle....
......Jerry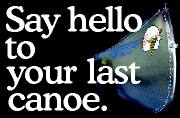 It won't wear out.
It won't split or crack.
It won't sag, it won't sink.
It'll be your best friend. Eager, tough, loyal, fearless, forgiving. It'll take you to hell and back. The name has changed, but the canoe hasn't. It's still the same canoe with the famous heritage of airframe technology. Still the toughest quality standards on the water, and still with the lifetime warranty on punctures.

Built to last.
All models feature .060" aluminum deck caps and .080" stem caps with special T-6 alumilite finish rivets for top strength. A special sealant ensures long lasting watertightness.
Optimum strength.
Formed .062" aluminum thwarts are secured with marine grade stainless steel bolts. Close, precision riveting ties gunnels, skin and thwarts together for superior strength.
Better
Tracking.
Grumman's standard flat water keel is designed to make paddling easier and keep your canoe "on track." The special "Bulb T" keel on Grumman's 19 ft. Square Stern and Sportboat makes larger canoes stiffer and stronger. Both keels are made of tough, solid aluminum extrusions.
Maneuver-
ability.
The shallow draft keel has an inner keelson of rugged-strength extruded aluminum made for fast maneuvering through rock bottom whitewater rivers. The shallow draft keel is available on G-1750CSK double-enders.


17' Double-Ender The legendary 17 footer -- the most recognized aluminum canoe ever built. Available in standard .050" hull thickness (G1750C), with optional shallow draft keel (G1750CSK) or the .040" lightweight hull thickness for easy portability (G1740C). For the economy minded paddler interested in our 17 foot hull design, we offer the 17 foot Falcon (G1740CF) which blends a G1740C hull design with some cost saving construction and assembly methods.



Model
Length
Beam
Ribs
Center Depth
Keel
Max.Wt.
lbs./Persons
Max
H.P.
Hull Wt. lbs./Gauge
G1750C
16'
11 3/4"
36 1/8"
3
13 1/8"
Standard
755/670
5
75/.050
G1750CSK
7
Shallow Draft
81/.050
G1740C
3
Standard
66/.040
G1740CF
36 1/4"
3
Standard

---



15' Double-Ender -- Both of our 15 foot double-enders offer excellent maneuverability on the water as well as a hefty 650 pounds of total weight capacity. These traits combined with their light hull make them an exceptional choice for camping, backpacking, or any canoeing situation where portage is a consideration.

Model
Length
Beam
Ribs
Center Depth
Keel
Max.Wt.Cap.
lbs./Persons
Max
H.P.
Hull Wt. lbs./Gauge
G1550C
15' 5/16"
35 1/16"
3
12 1/8"
Standard
650/565
5
69/.050
G1740C
59/.040

---



18' Double-Ender -- The 18 footer is our largest double-ended canoe. Roomy and well mannered on the water, it can carry a whopping 845 pounds of persons and gear, yet weighs only 72 pounds thanks to it's .040" hull thickness. The G1840C is extremely well suited for extended cruising and makes a great sailing canoe.

Model
Length
Beam
Ribs
Center Depth
Keel
Max.Wt.Cap.
lbs./Persons
Max
H.P.
Hull Wt. lbs./Gauge
G1850C
18' 3/4"
36 5/8"
5
13 1/8"
Standard
845/760
5
72/.040

---



13' Double-Ender -- The 13 footer is perfect for an afternoon's paddling at the lake. Weighing in at just 50 pounds, it's the lightest canoe we build, making it a favorite with single handlers to launch and load.

Model
Length
Beam
Ribs
Center Depth
Keel
Max.Wt.Cap.
lbs./Persons
Max
H.P.
Hull Wt. lbs./Gauge
G1340C
13' 1/2"
35 1/8"
3
12 7/8"
Standard
590/550
3
50/.040


about my Adirondack Adventure